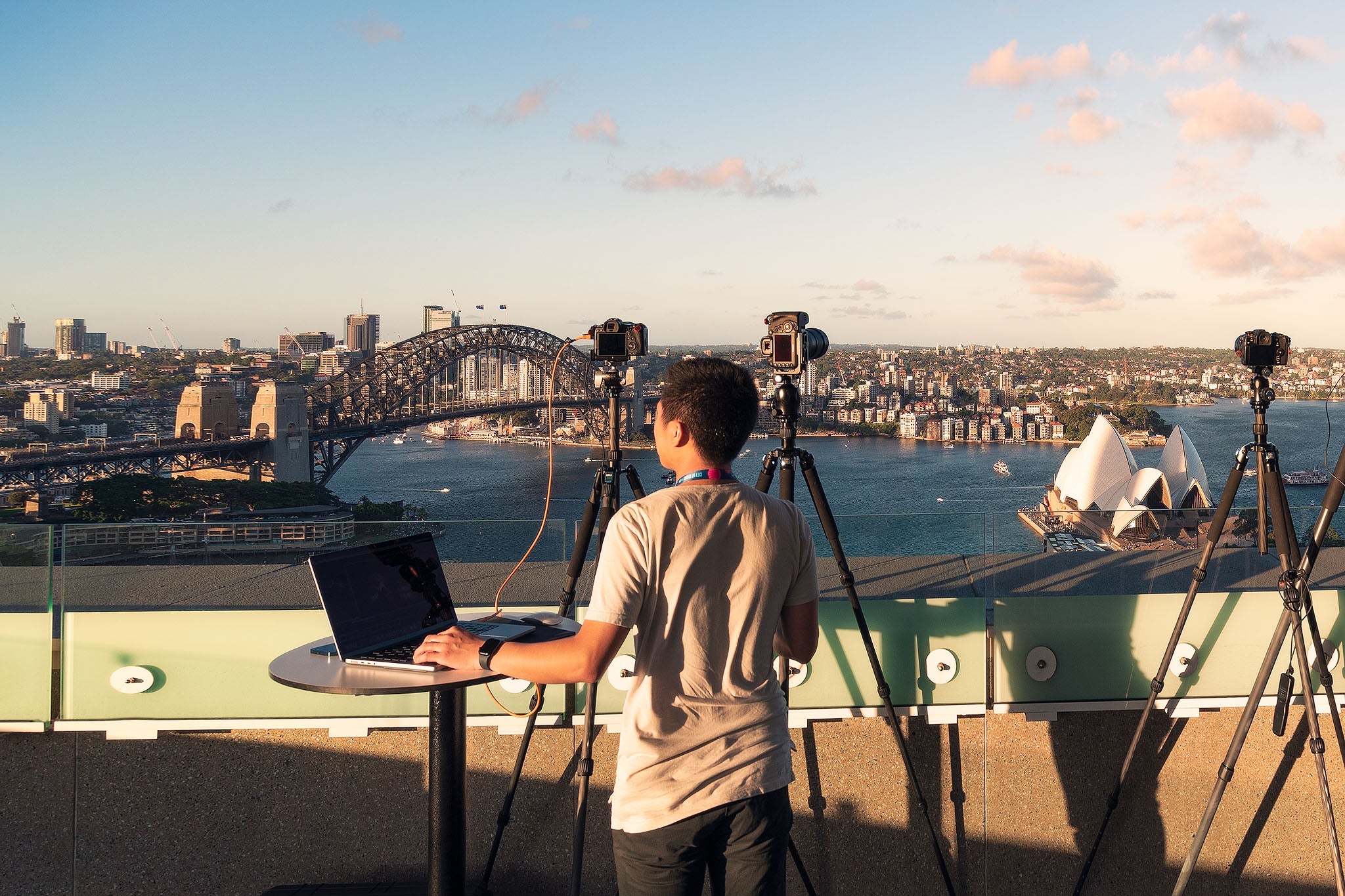 Commercial & Advertising Photographer
Daniel Tran is an Australian based travel, landscape and commercial photographer with over 8 years of experience in the photographic industry. Specialising in commercial travel, tourism and major events photography. He has worked on various commissioned projects for a number of well-known brands and organisations. Daniel's work have featured on billboards in Times Square, the iconic sails of the Sydney Opera House, the Sydney Harbour Bridge Pylons and in various international and regional publications. His clients include Destination NSW, Tourism Australia, Canon Australia, Adobe, Google and Audi.
Featured Work
Sydney Opera House Projection
Bondi Beach aerial photograph by Daniel Tran projected onto the iconic sails of the Sydney Opera House.
Times Square Billboard
Commissioned Vivid Sydney photographs featuring on billboards in Times Square, New York.
Tourism Campaign Billboard
Commercial photography work for a Destination NSW campaign featuring across billboards in Australia.
Services
Daniel Tran Photography offers a range of different services that can be tailored to suit your needs no matter how big or small the project may be. Whatever your ideas are, we'd love to hear from you.
Commercial Photography
Available for all sorts of freelance and commercial photography projects such as tourism, major events, architecture, real estate, hotel and resort photography. Daniel has a Bachelor of Arts degree majoring in Photography (visual communication) and has been operating in the photographic industry for over 8 years. He has worked on a variety of projects from photographing events to global tourism advertising campaigns.
Social Media Content Creation
Daniel has been capturing social media content for over 8 years, creating some of the most engaging content for his clients. We can also work with you to promote your brand, product or service across our own social media channels with over 70,000 highly engaged followers across Instagram and Facebook.
Drone Photography
Daniel Tran is a fully insured and (CASA) Civil Aviation Safety Authority certified drone pilot (RePL) + (ReOC), We are able to provide a range of professional aerial drone photography services. All flights are conducted with appropriate permits and flight clearances.
Image Licensing
Our images are available to be licensed for commercial and editorial purposes. Which includes magazines, CD covers, book publications, calendars, advertisements and reports. We have licensed hundreds of images to many well known organisations, companies, businesses and publications such as Tourism Australia, Destination NSW, Canon Australia, Google and HarperCollins Publishers.
Brand Collaborations
Considered on a case by case basis. If you would like to collaborate with us please get in touch. We'd love to hear from you.
Our Clients
100% carbon offset
Daniel Tran is proudly working to offset the carbon emissions that are generated when operating our business by partnering with Greenfleet Australia. This includes carbon offset for all travel, transportation, electricity and shipping artwork.
Contact us
If you are interested in chatting about our services, please get in touch by filling out the enquiry form below. Alternatively you can email us directly at info@danieltranphotography.com